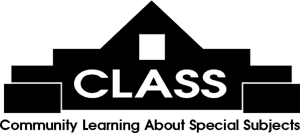 The Moveable Feast offers monthly luncheons featuring presenters on a broad range of cultural topics (music, art, drama, history, and some literature, mostly by local and CLASS-published authors). Each is individually priced. Email
[email protected]
or call 843-235-9600 for more information.
Click here to register online!

Author:
Annual Holiday Moveable Feast - FULL!
Date/Time:
Tuesday 12/12/2023 at 11:00 AM
Book:
Annual Holiday Moveable Feast
Synopsis:
Continuing the "giving" tradition, CLASS and My Sister's Books will host a lovely luncheon around The Village House's holiday tree, loaded with literary giveaways. We have three new and uplifting books authored by local talents who will share their inspiration. Children's author Christine Doran and artist Janice Coward team up for a heartwarming tale about self-esteem, featuring the animated parlor furniture of the Kaminski House Museum and a busy little mouse who scampers among them sharing the miracle and magic of Christmas. Then award-winning author Stephanie Alexander brings us her fourth and final installment of the Tipsy Collins' series, in which she beautifully wraps up the characters' journeys with a blend of paranormal intrigue and life lessons. We'll conclude with the true love story of Pris Keefer and Paul Mikos, now in their 80s, whose charming "her view/his view" chronicle will give hope and a little nudge to folks out there who are just "not done" with exploring, learning, sharing and loving the great gift that is this life. Treat yourself to a fine time with fine friends to celebrate the season and the conclusion of another fine year.
Restaurant:
The Village House, Litchfield
Menu:
Directions:
13089 Ocean Hwy, Building E, Pawleys Island 29585