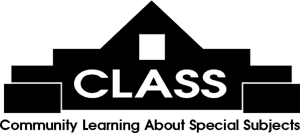 Welcome to the Pawleys Island/Litchfield SC CLASS website!
CLASS LLC plans and delivers a variety of cultural events and services, including The Moveable Feast, selected art courses, boat excursions, women's retreats, vegan tastings, and local author publishing. Our message machine is on duty when we're not! You can email
[email protected]
or call 843.235.9600, and we will retrieve messages and return calls.
CLASS Publishing Division is growing by leaps and bounds and demonstrates the terrific talent residing among your neighbors. The local authors (fiction, history, children's books, photography and art) include Tanya Ackerman, Tracy Bailey, William (Billy) Baldwin, Virginia & Dana Beach, Ginny Brock, Cindy Clark, Natalie & Ron Daise, Marc Davison, Dawn Dixon, Millie Doud, Anton DuMars, Bryan England, Johnny L. Ford, Liz Gallo, Cindy Hedrick, Seldon (Bud) Hill, Maureen Horwath, Robert Jenkins, Miranda & Thomas Johnson, John Kenny, Maura Kenny, Larry Ketron, Patricia Kolencik & Jane Petrone, Mike Lassiter, Anne Swift Malarich, Jesse Marshall, John Mathis, Robert (Mac) McAlister, Susan Hoffer McMillan, Ernie Merchant, Vennie Deas Moore, Robin Salmon, and William Woodson. COME VISIT OUR TENT AT ART UNDER THE OAKS, APRIL 15 & 16 (corner of Ocean Hwy & Willbrook Blvd).
Click on "CLASS List & Publishing" above for details of these and our other publications. Selected titles are available on the Waccamaw Neck at Brookgreen Gardens Keepsakes, Driftwood Mercantile, Litchfield Books, My Sister's Books, The Original Hammock Shop, and in Georgetown, at the Georgetown County Museum, The Rice Museum, and Waterfront Books, and the Preservation Society of Charleston Shop.
The Moveable Feast has transitioned from its 25-year run of Friday literary luncheons to smaller, more intimate luncheons on (mostly) TUESDAYS, featuring presenters on a broad range of cultural topics (music, art, drama, history, and some literature, mostly by local and CLASS-published authors). Due to food and labor increases, the base price will be $35 (or 3 for $100) beginning April 4, 2023.
To register or receive updates for Moveable Feasts, send your e-dress to
[email protected]
or call 843.235.9600. To pay for Moveable Feasts or any of the CLASSes, send your check, payable to CLASS, to PO Box 2884, Pawleys Island, SC 29585.
CLASS (Community Learning About Special Subjects) offers special excursions, retreats, and unique art courses & workshops. Click on CLASS List & Publishing above for details about:
Twice monthly Paint-Ins at the Litchfield Exchange with Danny McLaughlin;
Stained Glass courses with Kathy Welde and Sharon Knost held at the Parish Hall of Holy Cross Faith Memorial Church - NEW CLASS MONDAYS, 4/3/23-5/8/23 from 12:30-3:30 PM (see Class 411 under CLASS List & Publishing);
Lee will host her semi-annual Women's Retreat at the Sea View Inn, Oct. 24-26, 2023;
Lee and Capt. Paul Kenny offer Imagine Charters, 6-passenger pontoon boat excursions on the rivers and tributaries of Winyah Bay to Sandy Island, Arcadia and the PeeDee - for dates and availability, click on CLASS List & Publishing above, then under Travel with CLASS;
"Tuesday Tastings," orchestrated by professional foodie Holly Poteet and 20-year vegan Cindy Hedrick, held monthly in The Reserve. VEGAN MEXICAN FOOD - APRIL 4. Click on "CLASS List & Publishing" above for details.
CLASS LLC (productions and publishing) and The Moveable Feast are owned and managed by Linda Ketron.

Instructor:
Linda Ketron
Dates:
Mar 31, 2023 to Apr 2, 2023
Time:
From 12:00 pm to 10:00 am
Materials:
Layers, slippers, snugglies, adult beverage of choice.
Class Cost:
$400.00
Is Class Open?
yes
Description:
This is a departure from our traditional spring and fall retreats with Lee Brockington because she has another commitment when the Sea View Inn is available to us. (Lee will return for the Oct. 24-26, 2023, Sea View Inn Women's Retreat.) In order not to lose our great springtime reservation at the Inn, I'm offering a "No Agenda, Self-Determined, Battery-Recharging" stay at one of the most iconic resorts on the entire east coast. If you want to reconnect with a best friend or sister in a nurturing space, or crave beach walking, hammock reading, southern eating, napping after a great massage, sleeping with the windows open to the salt breeze, or you just "vant to be alone,â" this may be the stay-cation you need. Plan to arrive at noon on Friday to get settled, the dinner bell will chime at 1:15, depart after a leisurely breakfast on Sunday morning. Meals are the only scheduled activity and if you miss one, you still won't go hungry! Bring good walking shoes, layers, slippers, snugglies, and adult beverage of your choice. $350 per person, double occupancy; $400, single. TWO ROOM FOR 2 SINGLES, 2 DOUBLES, or A DOUBLE AND A SINGLE.
Click the name above to register!
The Moveable Feast
The Moveable Feast offers monthly luncheons featuring presenters on a broad range of cultural topics (music, art, drama, history, and some literature, mostly by local and CLASS-published authors). Each is individually priced.
The Next Feast...
Patricia Falvey - FULL!
author of "The Titanic Sisters" at Caffe Piccolo.

"Patricia Falvey's fourth work of historical fiction (following "The Yellow House," "The Linen Queen," and "The Girls of Ennismore") explores the relationship between two sisters whose lives take very different directions after the perilous voyage from Ireland to America aboard the "Titanic." Delia and Nora, "as different as sisters can be," face contrasting futures until a distant relative provides the means for their emigration to New York. Once there, Delia, constantly slighted, will be a lowly maid in a modest household, while her always favored sister Nora will be a governess for a well-to-do family. They board the majestic new ocean liner making its maiden voyage, with hopes, on Delia's part, that she and her sister might become closer during the trip. In the wake of that fateful journey, Delia embarks on a deception that brings happiness within reach for the first time, but has repercussions impossible to foresee."

Click here to register