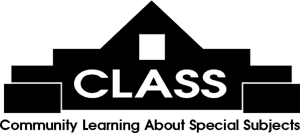 Some Art Works and CLASS-sponsored events (receptions, fundraisers) are held at the Litchfield Exchange; others (Moveable Feasts, Kimbel Concert Series, and Women's Retreats) are held other locations.
Click on class number 100 here or below to complete the enrollment form:
100 - Moveable Feast

Instructor: Literary Luncheons
Dates: Jan 1, 2022 to Dec 31, 2030
Time: From 11:00 AM to 1:00 PM
Materials: Cancellation for credit three days prior to the event.
Class Cost: $35.00
Is Class Open? Yes
Description: Each luncheon convenes in a different restaurant with an exciting author talking about his or her work, influences and inspirations. Set menu includes non-alcoholic beverages, taxes & gratuity. The Moveable Feast price is $35, although accommodations are made for venue increases, author expenses, and when the publisher requires "book with ticket." Most feasts are held on Fridays from 11 a.m. to 1 p.m. with the presentation first, followed by lunch. Some Tuesday Moveable Feasts are scheduled to accommodate author tour dates. Reservations must be made and paid for by the preceding Wednesday. Click on Moveable Feast at the top of the home page to view the coming authors.