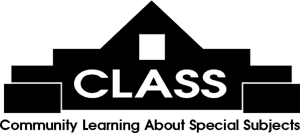 Some Art Works and CLASS-sponsored events (receptions, fundraisers) are held at the Litchfield Exchange; others (Moveable Feasts, Kimbel Concert Series, and Women's Retreats) are held other locations.
Click on class number 430 here or below to complete the enrollment form:
430 - If I Were a Garden, a creativity workshop

Instructor: Betsy Haase and Phil LaBorie
Dates: Jun 14, 2023 to Jun 14, 2023
Time: From 1:30 PM to 3:30 PM
Materials: All art materials and tools provided
Class Cost: $30.00
Is Class Open? yes
Description: CLASS offers "If I Were a Garden," a creativity workshop led by Betsy Haase (retired educator specializing in the writing arts) and Phil LaBorie (professional artist for more than 50 years). Join Betsy and Phil at Holy Cross Faith Memorial Parish Hall for a relaxed two-hour workshop that combines writing, drawing, and painting. We will discuss the garden as creative metaphor for our lives and the use of flowers to communicate feelings. We will explore our own gardens of development through guided writings and illustrations. Each participant will make and take home a personalized keepsake.