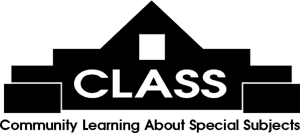 Some Art Works and CLASS-sponsored events (receptions, fundraisers) are held at the Litchfield Exchange; others (Moveable Feasts, Kimbel Concert Series, and Women's Retreats) are held other locations.
Click on class number 420 here or below to complete the enrollment form:
420 - Stained Glass - All Levels PM - FULL!

Instructor: Kathy Welde
Dates: Jan 13, 2023 to Feb 17, 2023
Time: From 1:00 PM to 4:00 PM
Materials: Materials fee payable directly to the instructor.
Class Cost: $120.00
Is Class Open? No
Description: This 6-week course is for beginners and seasoned artists using the copper foil and solder method of stained glass art. You will choose appropriate level projects to work on. Basic tools are provided (glass cutters, grinders, and soldering irons) along with scraps of glass for use in your projects. Beginner kits containing solder, copper foil and flux are available for purchase from the instructor. There is also a limited supply of stained glass that can be purchased. The classes are structured in a relaxed atmosphere working at your own pace. Individual attention and instruction is provided. Classes will be strictly limited to no more than 8 people. Social distancing will be observed. Students will be working with soldering irons, grinders, and sharp edged glass, requiring dexterity, steadiness, and the ability to stand for long periods of time. There will be a $3 fee payable to the instructors to help cover costs of tools for the class. A former math teacher and military spouse, Kathy has been creating stained glass works of art almost 40 years. She has been teaching this art form more than 20 years, starting in this area at CLASS in the Litchfield Exchange, then 15 years for CCU's OLLI. The location for this class will be the Parrish Hall at Holy Cross Faith Memorial Church, Baskervill.