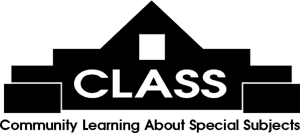 Some Art Works and CLASS-sponsored events (receptions, fundraisers) are held at the Litchfield Exchange; others (Moveable Feasts, Kimbel Concert Series, and Women's Retreats) are held other locations.
Click on class number 403 here or below to complete the enrollment form:
403 - Beg/Int Stained Glass - 403

Instructor: Sharon Knost
Dates: Sep 1, 2020 to Oct 6, 2020
Time: From 9:30 AM to 12:30 PM
Materials: Separate materials fee payable directly to the instructor.
Class Cost: $100.00
Is Class Open? No
Description: [No class 9/8/20] These stained glass classes are for beginners and seasoned artists using the copper foil and solder method of stained glass art. You will choose appropriate level projects to work on. Basic tools are provided (glass cutters, grinders, and soldering irons) along with scraps of glass for use in your projects. Beginner kits containing solder, copper foil and flux are available for purchase from the instructor. There is also a limited supply of stained glass that can be purchased. The classes are structured in a relaxed atmosphere working at your own pace. Individual attention and instruction is provided. Classes will be strictly limited to no more than 8 people. Social distancing will be observed. Students will be working with soldering irons, grinders, and sharp edged glass, requiring dexterity, steadiness, and the ability to stand for long periods of time. There will be a $3 fee payable to the instructors to help cover costs of tools for the class. Sharon Knost retired to Murrells Inlet from northern Virginia in 2008 after serving 37 years with the Federal Government. She joined Kathy Welde's stained glass class at OLLI that fall and eventually served as her assistant. She was encouraged to share her passion for stained glass art and has enjoyed teaching this unique medium for the past three years.