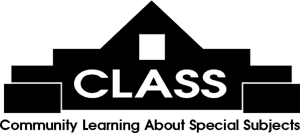 Some Art Works and CLASS-sponsored events (receptions, fundraisers) are held at the Litchfield Exchange; others (Moveable Feasts, Kimbel Concert Series, and Women's Retreats) are held other locations.
Click on class number here or below to complete the enrollment form:
- ART & BOOK FAIR -11/21/20

Instructor: Art Works artists, CLASS Publishing authors, CLASS instructors & students
Dates: Nov 21, 2020 to Nov 21, 2020
Time: From 10:00 AM to 3:00 PM
Materials: Please wear your mask
Class Cost: $0.00
Is Class Open? no
Description: Join us for a day-long artists and authors fair at the Litchfield Exchange where Art Works artists will be on display, books published by CLASS authors will be available for purchase and signing, and CLASS instructors & students will show off their stained glass and art creations. Masks required (available at the door if you come unmasked), sanitizers, social distanced tables, and pre-packaged refreshments. Holiday music from Mission Control. Raffle baskets to raise funds to repair the Sandy Island offroad vehicles.