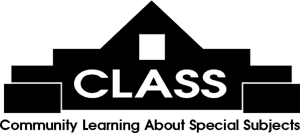 Some Art Works and CLASS-sponsored events (receptions, fundraisers) are held at the Litchfield Exchange; others (Moveable Feasts, Kimbel Concert Series, and Women's Retreats) are held other locations.
Click on class number here or below to complete the enrollment form:
- SHOP Small EVERY DAY

Instructor: Linda Ketron
Dates: Dec 9, 2019 to Dec 24, 2019
Time: From 10:00 AM to 2:00 PM
Materials:
Class Cost: $0.00
Is Class Open? yes
Description: We hope you'll drop by Art Works in the Litchfield Exchange Mondays through Saturdays leading up to Christmas. We are chock-full of unique and reasonably priced original creations by local artists, plus excellent fiction, non-fiction and children's books by local authors (published by CLASS Publishing), AND think about giving Moveable Feast gift certificates to your friends for the New Year (our 22nd year of offering these fabulous literary luncheons). They make great stocking stuffers, as do passes for the French Film Festival coming up at the Waccamaw Library the last weekend in January and first in February. Six films for $10!