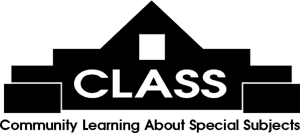 Some Art Works and CLASS-sponsored events (receptions, fundraisers) are held at the Litchfield Exchange; others (Moveable Feasts, Kimbel Concert Series, and Women's Retreats) are held other locations.
Click on class number here or below to complete the enrollment form:
- Shop Small Saturday

Instructor: Linda Ketron
Dates: Nov 25, 2017 to Nov 25, 2017
Time: From 10:00 AM to 2:00 PM
Materials:
Class Cost: $0.00
Is Class Open? yes
Description: This Saturday (Nov. 25) is Shop Small Saturday and we hope you'll drop by Art Works in the Litchfield Exchange (which is chock-full of great and reasonably priced original gifts by local artists), or think about giving Moveable Feast gift certificates to your friends for the month of January and, while you're there, visit our "sweet" neighbor, The Chocolate & Coffee House, for a chocolate fix or a holiday order. Art Works will be serving wine and cheese from 10 AM (!) until 2 PM. And we have a couple of special "gifts with purchase" that you just have to come by to see! Likewise, the reveal of our Saturday, Feb. 17 Kimbel Concert headliner! Don't you just love surprises!