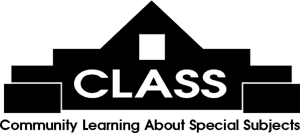 Welcome to the Pawleys Island/Litchfield SC CLASS website!
CLASS (Community Learning About Special Subjects) is in its 21st year of providing adults with unique opportunities! The CLASS/Moveable Feast office is located in Art Works in the Litchfield Exchange at 14363 Ocean Highway, Pawleys Island, two miles south of Brookgreen Gardens, just behind Applewood House of Pancakes on U.S. 17.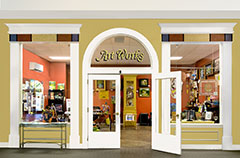 Our hours are Mondays through Saturdays, 10 AM to 2 PM. But our answer machine works when we aren't (843-235-9600), and we can always be reached through ClassAtPawleys.com.
Art Works features local artists including Larry Beasley, Terry Belanger, Kathi Bixler, Nancy Bracken, Roger Cleveland, Gwen Coley, Millie Doud, Lisa Elvington, Terry Graham, Zenobia Harper, Rachel Held, Barbara Kee, Sharon Knost, Barbara Linderman, Danny McLaughlin, Suz Mole, Paul Moyer, Barnie Slice, Sharon Sorrels, M.P. "Squeaky" Swenson, Kathy Welde and Jane Woodward. Come see their new creations!
The CLASS Publishing Division is delighted to announce its newest publications: "Carolina Rambling" by Selden Hill and William Baldwin; "Lost and Found" by Ernest Merchant; "A Very Special Family: The House of Joseph Thomas Raad, Georgetown, SC" by John Kenny; "I CAN! Adventures with Birdie," the fourth in a series of children's books initiated by Ron Daise; and "Holidogs," a happy read for all ages by Gayle Agee and Millie Doud (now in hardcover). Click on CLASS Publishing above for details of these and other publications by this small press. To purchase, click on CLASS List and select the book(s) of your choice. We will call or email for your payment preference.
Fridays (and some weekdays!) CLASS presents Moveable Feasts, literary luncheons featuring exciting authors at area restaurants. Each Moveable Feast is $30 (however, if you purchase the featured book at the Feast, CLASS will give you a $5 cash rebate!). Occasionally, the Feast includes the book as a requirement of the publisher (these are typically "heavy-hitters" that we wouldn't get otherwise). To register or receive the schedule for the Moveable Feasts, send us your e-dress by calling 843-235-9600, stopping by our gallery in the Litchfield Exchange, or clicking on the topic of your choice at the top of this page.
CLASS (Community Learning About Special Subjects) offers special excursions and retreats. Click on CLASS List for details about twice monthly Paint-Ins at the Litchfield Exchange with Danny McLaughlin. Lee Brockington's Women's Retreat at the Sea View Inn will reward you in so many ways.
CLASS Productions offers intimate Saturday afternoon concerts with remarkable performers (e.g., Clay Brown, Donald Ceasar, Donna & Mark Groom, Drink Small, Dixieland Swampers, Unisoghn, Gracie Holliday, Mac Arnold) inside Kimbel Lodge on the Hobcaw Barony property. Next up is Lime and the Coconuts on April 27. Click on "CLASS List" above for the listings.
Art Works, CLASS, CLASS Publishing and The Moveable Feast are owned and managed by Linda Ketron (linda@classatpawleys.com).

Instructor:
Lee Brockington, Linda Ketron
Dates:
Apr 27, 2019 to Apr 27, 2019
Time:
From 3:00 pm to 5:00 pm
Materials:
You are welcome to BYO an adult beverage, if preferred
Class Cost:
$30.00
Is Class Open?
yes
Description:
With a repertoire of more than 100 songs, the seven-piece band plays swing, hymns, 1910-present songs, blues, folk and more. Lime (batik artist and environmental activist Mary Edna Fraser) and the Coconuts (various talented musicians) reach to the past for swing standards and tunes that make you want to tap your feet. Guitarist and vocalist Roger Bellow plays almost anything with strings; in the circle of superlative pickers, he is a cherished award-winning music man. On the ukulele and banjo is Noodle whose singing reminds you of Bing Crosby. Matt Shapiro has a Benny Goodman clarinet style and Keith Namm plays a smooth saxophone. Jeff Narkiewicz plays doghouse bass and David Hinson's vintage drums round out the sound. Held in Kimbel Lodge on Hobcaw Barony, seating provided. Light refreshments.
Click the name above to register!
The Moveable Feast Literary Luncheons
The Moveable Feast features literary luncheons with exciting authors at area restaurants on Fridays, 11 am - 1 pm, $30 each with a $5 cash rebate if the featured book is purchased.
The Next Feast...
Elizabeth Letts
author of "Finding Dorothy" at Ocean One, Litchfield.

"This richly imagined novel tells the story behind "The Wonderful Wizard of Oz," the book that inspired the iconic film, through the eyes of author L. Frank Baum's intrepid wife, Maud. Hollywood, 1938: As soon as she learns that M-G-M is adapting her late husband's masterpiece for the screen, 77-year-old Maud Gage Baum sets about trying to finagle her way onto the set. Nineteen years after Frank's passing, Maud is the only person who can help the producers stay true to the spirit of the book — because she's the only one left who knows its secrets. But the moment she hears Judy Garland rehearsing the first notes of "Over the Rainbow," Maud recognizes the yearning that defined her own life story, from her youth as a suffragette's daughter to her coming of age as one of the first women in the Ivy League, from her blossoming romance with Frank to the hardscrabble prairie years that inspired "The Wonderful Wizard of Oz." Judy reminds Maud of a young girl she cared for and tried to help in South Dakota, a dreamer who never got her happy ending. Now, with the young actress under pressure from the studio as well as her ambitious stage mother, Maud resolves to protect her — the way she tried so hard to protect the real Dorothy. The author of two New York Times bestselling nonfiction books, "The Eighty-Dollar Champion" and "The Perfect Horse," Elizabeth Letts is a master at discovering and researching a rich historical story and transforming it into a page-turner. Finding Dorothy is the result of Letts' journey into the amazing lives of Frank and Maud Baum. Written as fiction but based closely on the truth, the book tells a story of love, loss, inspiration, and perseverance, set in America's heartland."

Click here to register