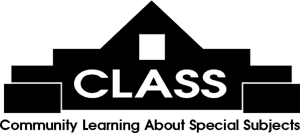 Welcome to the Pawleys Island/Litchfield SC CLASS website!
CLASS and The Moveable Feast are located at Litchfield Books in Fresh Market Commons (11421 Ocean Highway, Pawleys Island) where we manage the Moveable Feast, as well as selected art courses, boat excursions, and retreats. Our hours are Monday-Saturday, 10 AM-2 PM, although the bookstore is open Monday-Saturday, 10 AM to 6 PM and Sunday, 1-5 PM. Our message machine is on duty when we're not! You can email
[email protected]
or call 843.235.9600, and we will retrieve messages and return calls.
CLASS Publishing Division has a featured display of its 30-plus publications at Litchfield Books. The collection is growing by leaps and bounds and demonstrates the terrific talent residing among your neighbors. The local authors (fiction, history, children's books, photography and art) include Tanya Ackerman, Tracy Bailey, William (Billy) Baldwin, Virginia and Dana Beach, Ginny Brock, Natalie and Ron Daise, Marc Davison, Dawn Dixon, Millie Doud, Bryan England, Johnny L. Ford, Liz Gallo, Cindy Hedrick, Seldon (Bud) Hill, Robert Jenkins, Miranda and Thomas Johnson, John Kenny, Maura Kenny, Larry Ketron, Mike Lassiter, Anne Swift Malarich, Jesse Marshall, John Mathis, Robert (Mac) McAlister, Susan Hoffer McMillan, Ernie Merchant, Vennie Deas Moore, Robin Salmon, and William Woodson.
Through the pandemic, CLASS Publishing produced 10 new books by local authors, with more in production. Click on "CLASS List and Publishing" above for details of these and our other publications. All of the books are available at Litchfield Books, and selected titles are available at The Original Hammock Shop, Brookgreen Gardens Keepsakes, My Sister's Books, Driftwood Mercantile, and The Rice Museum and Waterfront Books in Georgetown.
The Moveable Feast is thriving, featuring local, regional and national authors at our area restaurants. Each Moveable Feast is priced individually. The base price is $35, however increased venue costs, publisher-required book with ticket, and author fees may increase the price. To register or receive updates for Moveable Feasts, send us your e-dress by calling 843.235.9600, stop by Litchfield Books, or click on the topic of your choice at the top of this page.
CLASS (Community Learning About Special Subjects) offers special excursions, retreats, and unique art courses & workshops. Click on CLASS List above for details about twice monthly Paint-Ins at the Litchfield Exchange with Danny McLaughlin. Stained Glass courses with Kathy Welde and Sharon Knost at the Parrish Hall of Holy Cross Faith Memorial Church will resume in the fall. Lee Brockington hosts her semi-annual Women's Retreat at the Sea View Inn, Oct. 25-27. And, Lee and Capt. Paul Kenny offer Imagine Charters, 6-passenger pontoon boat excursions on the rivers and tributaries of Winyah Bay. Click on "CLASS List and Publishing" above for details.
Gift certificates are available for Moveable Feasts and CLASS offerings. Just call 843.235.9600 or email
[email protected]
CLASS LLC (productions and publishing) and The Moveable Feast are owned and managed by Linda Ketron.

Instructor:
Lee Brockington & Paul Kenny
Dates:
Jul 6, 2022 to Aug 30, 2022
Time:
From 9:30 am to 12:30 pm
Materials:
Attire should include weather-appropriate outer wear.
Class Cost:
$100.00
Is Class Open?
Yes
Description:
Historian Lee Brockington has been sharing the history of the Lowcountry for years as an instructor for CLASS and OLLI, as a public speaker for the Georgetown County Library System, and as a former Senior Interpreter for Hobcaw Barony. She is adding a new feather in her cap by joining Paul Kenny, former marine scientist with the USC-Baruch Marine Laboratory and boat tour captain, in a new CLASS series: Imagine Charters. Come aboard Kenny's six-passenger pontoon boat "Imagine" and travel the storied Waccamaw and PeeDee rivers with licensed Captain Paul at the helm and local treasure Lee imparting histories, mysteries, and tidbits of wisdom from the stern. Although shade is available on board, please bring your own sun and bug protection (hat, sunglasses, sunscreen, bugspray). Water and ice provided. Capacity: 6 passengers. Select your excursion in the "Comments" section of the registration form. Departure time is 9:30 AM: Space available on 7/6, 7/7, 7/12, 7/19, 7/26, 8/2, 8/16, 8/22, 8/23, 8/29, and 8/30. And, of course, each excursion is weather dependent, so it's a good idea to provide a second choice!
Click the name above to register!
The Moveable Feast Literary Luncheons
The Moveable Feast features literary luncheons with exciting authors at area restaurants on Fridays, 11 am - 1 pm, $35 each, some exceptions when the book is included with the Feast ticket.
The Next Feast...
Sarah McCoy
author of "Mustique Island" at Inlet Affairs.

"From the New York Times bestselling author comes a compulsive, sun-splashed voyage of self-discovery with a wealthy divorcee and her two headstrong daughters in 1970s Mustique, the world's most exclusive private island, where Princess Margaret and Mick Jagger were regulars and long-held secrets are the buried treasures."

Click here to register