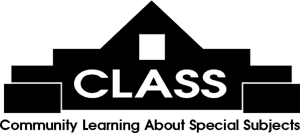 Welcome to the Pawleys Island/Litchfield SC CLASS website!
Art Works gallery is open Monday-Saturday, 10 AM to 2 PM. Our message machine is on duty when we're not! You can email
[email protected]
or call 843.235.9600, and we will retrieve messages and return calls.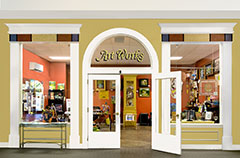 CLASS (Community Learning About Special Subjects) is in its 24th year of providing adults with unique opportunities! The CLASS/Moveable Feast office is located in Art Works in the Litchfield Exchange at 14363 Ocean Highway, Pawleys Island, two miles south of Brookgreen Gardens, just behind Applewood House of Pancakes on U.S. 17.
Art Works features local artists including Terry Belanger, Nancy Bracken, Patricia Tanner Candal, Roger Cleveland, Millie Doud, Lisa Elvington, Terry Graham, Zenobia Harper, Martha Hollenhorst, Tom Johnson, Barbara Kee, Sharon Knost, Barbara Linderman, Danny McLaughlin, Suz Mole, Paul Moyer, Barnie Slice, Sharon Sorrels, M.P. "Squeaky" Swenson, and Kathy Welde. They all have great creations for gifting any season - and THIS summer season all artwork is 50% off! Stop by and check them out!
CLASS Publishing Division is delighted to announce three amazing new coffee table books: "Sandy Island ... forever," edited by Linda Ketron with essays by Susan Hoffer McMillan, Robin Salmon, Vennie Deas Moore, Virginia and Dana Beach, paintings by Maura Kenny, and photographs by Anne Swift Malarich and other local photographers; "Our Vanishing Americana: A South Carolina Portrait" by Mike Lassiter; and Tanya Ackerman's long-awaited "Pawleys Island: Seasons of Light."
Two new CLASS books (for children and adults, too) are Johnny L. Ford's "McKenzie Beach Memories," as told to Ron Daise and illustrated by Natalie Daise, and Cindy Hedrick's heartwarming "Tails from SC CARES." (Catch Cindy's summer program from the Georgetown County Library Systems at https://georgetowncountylibrary.sc.gov/programs/childrens-programs/)
And terrific summer reads can be found in Dawn Dixon's debut cozy, "Faux Finished," and the re-release of William Woodson's "Waccamaw Gold." Both will be Moveable Feast presenters this summer.
A remarkable memoir, "Overcoming" by retired family court judge Robert N. Jenkins, Sr., has just been released. One of 13 children born to a rural McClellanville couple, Jenkins overcame poverty and prejudice to become a member of the Air Force rifle corps, the fourth African American graduate of The Citadel, a graduate of the University of South Carolina's law school, a distinguished attorney providing legal defense for those without means, and ultimately a family court judge meting out justice with fairness and compassion. Through the Jim Crow South of the 50s and 60s and an inequitable education system, despite The Great Society's efforts to balance the scales, Jenkins persevered through hard work, determination, a commitment to learning, and an abiding faith, all of which disallowed "excuses" – for himself, his children, his co-workers, and his clients. Filled with photos and personal remembrances, "Overcoming" is an inspirational reflection on a life well lived. The book is available at Art Works and by mail through CLASS and at The Village Museum in McClellanville.
Through the pandemic, CLASS Publishing produced 10 new books by local authors, with 20 more in production. Click on CLASS List above for details of these and our other publications. Books are available at Art Works in the Litchfield Exchange, Litchfield Books, The Original Hammock Shop, Brookgreen Gardens Keepsakes, My Sister's Books, The Rice Museum and Waterfront Books in Georgetown.
The Moveable Feast is thriving, featuring local, regional and national authors at our area restaurants and adhering to recommended safety precautions. To register or receive updates for Moveable Feasts, send us your e-dress by calling 843.235.9600, stop by our gallery in the Litchfield Exchange, or click on the topic of your choice at the top of this page.
CLASS (Community Learning About Special Subjects) offers special excursions, retreats, and unique art courses & workshops. Click on CLASS List above for details about twice monthly Paint-Ins at the Litchfield Exchange with Danny McLaughlin. The fall schedule will be posted mid-summer for "iPhones and iPads" with Carl DeLorenzo at the Litchfield Exchange and Stained Glass courses with Kathy Welde and Sharon Knost.
Gift certificates are available for Moveable Feasts and CLASS offerings. Just call 843.235.9600 or email
[email protected]
Art Works, CLASS Productions and Publishing, and The Moveable Feast are owned and managed by Linda Ketron.

Instructor:
Local Fine, Functional & Folk Artists
Dates:
May 29, 2021 to Sep 6, 2021
Time:
From 10:00 am to 2:00 pm
Materials:
Class Cost:
$0.00
Is Class Open?
YES
Description:
Throughout the summer, Art Works will hold a HALF-OFF SALE of collectible works by a score of local artists including PAINTINGS by Terry Belanger, Nancy Bracken, Patricia Candal, Millie Doud, Tom Johnson, Barbara Kee, Danny McLaughlin, Shea Schaefer, Barnie Slice, Sharon Sorrels & MP Swenson, FABRIC ART by Barbara Linderman, STAINED & FUSED GLASS by Sharon Knost, Suz! Mole & Kathy Welde, TURNED WOOD by Roger Cleveland & Paul Moyer, PINE STRAW BASKETS by Brenda Kathman, and CLAY CREATIONS by Millie Doud, Lisa Elvington, Martha Hollenhorst & Christie Weaver. Mondays-Saturdays, 10 AM-2 PM, in the Litchfield Exchange (14363 Ocean Hwy, behind Applewood House of Pancakes). 843.235.9600
Click the name above to register!
The Moveable Feast Literary Luncheons
The Moveable Feast features literary luncheons with exciting authors at area restaurants on Fridays, 11 am - 1 pm, $30 each, some exceptions when the book is included with the Feast ticket.
The Next Feast...
Rita Shuler - FULL!
author of "The Lowcountry Murder of Gwendolyn Elaine Fogle: A Cold Case Solved" at Litchfield Country Club.

"For decades, evidence of the 1978 murder of Gwendolyn Elaine Fogle lay in the evidence room at the Walterboro Police Department. Investigators periodically revisited the case over the years, but it remained the department's top cold case for thirty-seven years. Special Agent Lieutenant Rita Shuler worked on the case shortly after she joined the South Carolina Law Enforcement Division (SLED), and she couldn't let it go, not even after her retirement in 2001. In May 2015, Lieutenant Shuler teamed up with new investigator Corporal Gean Johnson, and together they uncovered key evidence that had been overlooked. With new advancements in DNA and fingerprint technology, they brought the case to its end in just four months. Join Shuler as she details the gruesome history of this finally solved case."

Click here to register