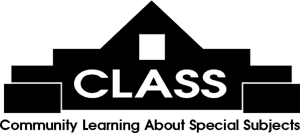 Welcome to the Pawleys Island/Litchfield SC CLASS website!
Art Works gallery is open Monday-Saturday, 10 AM to 2 PM. Our message machine is on duty when we're not! You can email
[email protected]
or call 843.235.9600, and we will retrieve messages and return calls.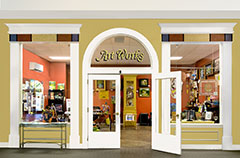 CLASS (Community Learning About Special Subjects) is in its 23rd year of providing adults with unique opportunities! The CLASS/Moveable Feast office is located in Art Works in the Litchfield Exchange at 14363 Ocean Highway, Pawleys Island, two miles south of Brookgreen Gardens, just behind Applewood House of Pancakes on U.S. 17.
Art Works features local artists including Terry Belanger, Nancy Bracken, Patricia Tanner Candal, Roger Cleveland, Millie Doud, Lisa Elvington, Terry Graham, Zenobia Harper, Rachel Held, Martha Hollenhorst, Barbara Kee, Sharon Knost, Barbara Linderman, Danny McLaughlin, Suz Mole, Paul Moyer, Barnie Slice, Sharon Sorrels, M.P. "Squeaky" Swenson, and Kathy Welde. Come see their new creations!
CLASS Publishing Division is delighted to announce its newest publications: "Sandy Island ... forever," edited by Linda Ketron with essays by Susan Hoffer McMillan, Robin Salmon, Vennie Deas Moore, Virginia and Dana Beach, paintings by Maura Kenny, and photographs by Anne Swift Malarich and other local photographers. Another new book (for children and adults, too) is Johnny L. Ford's "McKenzie Beach Memories," as told to Ron Daise and illustrated by Natalie Daise.
Additional recent publications by CLASS Publishing include "Fred & Ted: A Day at the Beach" by Liz Gallo follows two teddy bears as they rescue beach wildlife from the hazards of plastic and are rescued in turn. "Pawleys Island: An Old Man's Love Story" by Robert "Mac" McAlister is a charming memoir of one person's personal experiences on Pawleys Island spanning 70 years from the 1940s through the present. John Mathis' "Poetry from a Southern Heart" is a collection of poems written over the decades of life's ups and downs. "Beach House Card Tricks" and "More...Beach House Card Tricks" by R. Marc Davison are beautifully bound resources for anyone who wants to amaze their friends, kids, grands, nieces & nephews with mind-boggling impromptu card tricks!
PLUS "Riverside Blues, A Gullah Tale" by Tracy S. Bailey, as well as "Angus, The Gentle Giant" (7th in a series of children's books for Brookgreen Gardens initiated by Ron Daise) and "Fred & Ted: A Day at the Circus," the first in a series by Lizzie Gallo recounting the antics and adventures of two mischievous teddy bears. Click on CLASS Publishing above for details of these and our other publications. Books are available at Art Works in the Litchfield Exchange, Litchfield Books, The Original Hammock Shop, and Brookgreen Gardens Keepsakes.
For the fall, The Moveable Feast continues to feature local authors at our area restaurants, adhering to recommended safety precautions (half capacity, masks, sanitizers, social distancing). To register or receive updates for Moveable Feasts, send us your e-dress by calling 843.235.9600, stop by our gallery in the Litchfield Exchange, or click on the topic of your choice at the top of this page.
CLASS (Community Learning About Special Subjects) offers special excursions, retreats, and unique art courses & workshops. Click on CLASS List for details about twice monthly Paint-Ins at the Litchfield Exchange with Danny McLaughlin. Due to pandemic precautions, Lee Brockington's annual Women's Retreat at the Sea View Inn has been canceled for this fall. Several new classes have been added, including stained glass with Sharon Knost and Kathy Welde, art workshops with Suz! Mole, and Mantra/Metta Zooms with Lisa Rosof.
Art Works, CLASS Productions and Publishing, and The Moveable Feast are owned and managed by Linda Ketron (
[email protected]
).

Instructor:
Lisa Rosof
Dates:
Sep 14, 2020 to Oct 19, 2020
Time:
From 11:00 am to 11:40 am
Materials:
You, your computer, Zoom app
Class Cost:
$100.00
Is Class Open?
Yes
Description:
Lisa Rosof, M.A., I.A.Y.T., is a psychotherapist and certified yoga therapist who brought her eclectic blend of body/mind/spirit practices to the lowcountry for the past 25 years. She is currently an adjunct instructor of psychology and yoga at USC-Salkehatchie but still seeks to share virtually new insights with students everywhere. Utilizing free Zoom technology, you will join Lisa in her space from your space to explore sacred healing mantras/metta. E-handouts will be sent the Friday prior to Monday's Zoom. A detailed description of the course benefits will be sent upon request.
Click the name above to register!
The Moveable Feast Literary Luncheons
The Moveable Feast features literary luncheons with exciting authors at area restaurants on Fridays, 11 am - 1 pm, $30 each with a $5 cash rebate if the featured book is purchased.
The Next Feast...
Carole O'Neill
author of "The Truth Series" at Kimbel's, Wachesaw.

"The Truth Series follows television journalist Samantha Scott and her team as they try to solve cold case mysteries. O'Neill's former career as a television producer/director/writer allows her to navigate through the assignments from personal experiences. The first, "Hidden Truth," takes place in the little village of Onset, near the bridge to Cape Cod. During the forties, people frequented the dance hall on Saturday nights to see Tommy Dorsey or Guy Lombardo. After a young girl from Boston spent the evening dancing, she left with a local and they found her body in a cranberry bog five days later in the next town. He was placed on trial, but without DNA evidence, was acquitted. When Samantha Scott buys a Victorian cottage in the village, she discovers evidence buried on her property and begins to work with cold case detectives. The second, "Shameful Truth," takes place in Aberfan, Wales. In 1966 a coal mine slide destroyed a village and elementary school, killing 116 children. For thirty years after the 70-day tribunal concluded the party responsible, the facts were sequestered from Britain. This is the story of Gaynor Madgewick. She was eight years old when she became one of ten survivors. Her sister and brother were not among them. O'Neill interviewed her and her family, as well as many of the people in the village, for a documentary that aired in Boston. The third, "Taylor's Truth," takes place along the Grand Strand, from Myrtle Beach to McClellanville. When nineteen-year-old Taylor Caldwell arrives in Myrtle Beach on spring break, she has no idea she won't be returning with her class. "Taylor's Truth" is based on the author's recent work with the South Carolina Task Force on Human Trafficking."

Click here to register