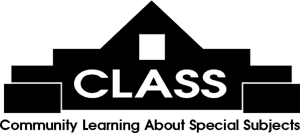 Welcome to the Pawleys Island/Litchfield SC CLASS website!
CLASS and The Moveable Feast are located at Litchfield Books in Fresh Market Commons (11421 Ocean Highway, Pawleys Island) where we manage the Moveable Feast, as well as selected art courses. Our hours are Monday-Saturday, 10 AM-2 PM, although the bookstore is open Monday-Saturday, 10 AM to 6 PM and Sunday, 1-5 PM. Our message machine is on duty when we're not! You can email
[email protected]
or call 843.235.9600, and we will retrieve messages and return calls.
Litchfield Books has invited some of your favorite local artists to exhibit in their space and sell their work under the bookstore's auspices, including Roger Cleveland, Millie Doud, Martha Hollenhorst, Brenda Kathman, Barbara Kee, Sharon Knost, Barbara Linderman, Paul Moyer, Barnie Slice, and Kathy Welde. They all have great creations for gifting any season! Stop by and check them out!
CLASS Publishing Division has a featured display of its 30-plus publications at Litchfield Books. The collection is growing by leaps and bounds and demonstrates the terrific talent residing among your neighbors. The local authors (fiction, history, children's books, photography and art) include Tanya Ackerman, Tracy Bailey, William (Billy) Baldwin, Virginia and Dana Beach, Ginny Brock, Natalie and Ron Daise, Marc Davison, Dawn Dixon, Millie Doud, Bryan England, Johnny L. Ford, Liz Gallo, Cindy Hedrick, Seldon (Bud) Hill, Robert Jenkins, Miranda and Thomas Johnson, John Kenny, Maura Kenny, Larry Ketron, Mike Lassiter, Anne Swift Malarich, Jesse Marshall, John Mathis, Robert (Mac) McAlister, Susan Hoffer McMillan, Ernie Merchant, Vennie Deas Moore, Robin Salmon, and William Woodson.
Through the pandemic, CLASS Publishing produced 10 new books by local authors, with more in production. Click on "CLASS List and Publishing" above for details of these and our other publications. All of the books are available at Litchfield Books, and selected titles are available at The Original Hammock Shop, Brookgreen Gardens Keepsakes, My Sister's Books, and The Rice Museum and Waterfront Books in Georgetown.
The Moveable Feast is thriving, featuring local, regional and national authors at our area restaurants and adhering to recommended safety precautions. Beginning in 2022, each Moveable Feast will be priced individually. The base price will be $35, however increased venue costs, book with ticket, and author fees will be accommodated. To register or receive updates for Moveable Feasts, send us your e-dress by calling 843.235.9600, stop by Litchfield Books, or click on the topic of your choice at the top of this page.
CLASS (Community Learning About Special Subjects) offers special excursions, retreats, and unique art courses & workshops. Click on CLASS List above for details about twice monthly Paint-Ins at the Litchfield Exchange with Danny McLaughlin. The winter schedule includes Stained Glass courses with Kathy Welde and Sharon Knost at a new location (Parrish Hall, Baskervill). Next spring (April 1-3), Lee Brockington will host her Women's Retreat at Sea View Inn - details under Class List and Publishing above.
Gift certificates are available for Moveable Feasts and CLASS offerings. Just call 843.235.9600 or email
[email protected]
CLASS LLC (productions and publishing) and The Moveable Feast are owned and managed by Linda Ketron.

Instructor:
L. Miranda and Thomas L. Johnson
Dates:
Dec 1, 2021 to Dec 31, 2024
Time:
From 12:00 am to 12:00 am
Materials:
Wholesale at CLASS LLC; retail at Litchfield Books
Class Cost:
$35.00
Is Class Open?
yes
Description:
"Worlds Unmasked," a stimulating, unsettling fine art publication by the father-daughter team of Thomas and Miranda Johnson, takes the reader on "A Journey through the Plague Years," as seen through the eyes of an emerging visual artist-photographer, then as interpreted by the wordsmithing of a retired university librarian. The 135 haunting black-and-white images are grace-noted with precise and provoking haiku. Hardcover, 152 pp, 135 black and white photographs, ISBN 978-1-955095-07-5, $35.
Click the name above to register!
The Moveable Feast Literary Luncheons
The Moveable Feast features literary luncheons with exciting authors at area restaurants on Fridays, 11 am - 1 pm, $35 each, some exceptions when the book is included with the Feast ticket.
The Next Feast...
Kerri Maher - FULL!
author of "The Paris Bookseller" at Kimbel's, Wachesaw.

"Discover the dramatic story of how a humble bookseller fought against incredible odds to bring one of the most important books of the 20th century to the world in this new novel from the author of "The Girl in the White Gloves." When bookish young American Sylvia Beach opens Shakespeare and Company on a quiet street in Paris in 1919, she has no idea that she and her new bookstore will change the course of literature itself. Shakespeare and Company is more than a bookstore and lending library: Many of the most prominent writers of the Lost Generation, like Ernest Hemingway, consider it a second home. It's where some of the most important literary friendships of the twentieth century are forged — none more so than the one between Irish writer James Joyce and Sylvia herself. When Joyce's controversial novel "Ulysses" is banned, Beach takes a massive risk and publishes it under the auspices of Shakespeare and Company. But the success and notoriety of publishing the most infamous and influential book of the century comes with steep costs. The future of her beloved store itself is threatened when "Ulysses'" success brings other publishers to woo Joyce away. Her most cherished relationships are put to the test as Paris is plunged deeper into the Depression and many expatriate friends return to America. As she faces painful personal and financial crises, Sylvia — a woman who has made it her mission to honor the life-changing impact of books — must decide what Shakespeare and Company truly means to her."

Click here to register