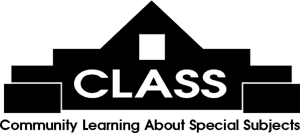 Welcome to the Pawleys Island/Litchfield SC CLASS website!
We are temporarily closed through the COVID-19 crisis. You can email us (
[email protected]
) or call (843.235.9600) and we will retrieve messages and return calls. Stay safe, all!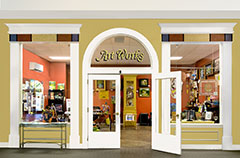 CLASS (Community Learning About Special Subjects) is in its 23rd year of providing adults with unique opportunities! The CLASS/Moveable Feast office is located in Art Works in the Litchfield Exchange at 14363 Ocean Highway, Pawleys Island, two miles south of Brookgreen Gardens, just behind Applewood House of Pancakes on U.S. 17.
We are closed until Monday, May 4, when we'll resume our regular hours: Mondays through Saturdays, 10 AM to 2 PM. But our answer machine works (843-235-9600), and we can always be reached through this website or
[email protected]
Art Works features local artists including Terry Belanger, Nancy Bracken, Patricia Tanner Candal, Roger Cleveland, Millie Doud, Lisa Elvington, Terry Graham, Zenobia Harper, Rachel Held, Martha Hollenhorst, Barbara Kee, Sharon Knost, Barbara Linderman, Danny McLaughlin, Suz Mole, Paul Moyer, Barnie Slice, Sharon Sorrels, M.P. "Squeaky" Swenson, and Kathy Welde. Come see their new creations when we re-open on May 4!
CLASS Publishing Division is delighted to announce its newest publications: "Fred & Ted: A Day at the Beach" by Liz Gallo follows two teddy bears as they rescue beach wildlife from the hazards of plastic and are rescued in turn. "Pawleys Island: An Old Man's Love Story" by Robert "Mac" McAlister is a charming memoir of one person's personal experiences on Pawleys Island spanning 70 years from the 1940s through the present. John Mathis' "Poetry from a Southern Heart" is a collection of poems written over the decades of life's ups and downs. "Beach House Card Tricks" by R. Marc Davison is a beautifully bound resource for anyone who wants to amaze their friends, kids, grands, nieces & nephews with mind-boggling impromptu card tricks! PLUS "Riverside Blues, A Gullah Tale" by Tracy S. Bailey, as well as "Elliott Learns to Swim" (sixth in a series of children's books for Brookgreen Gardens initiated by Ron Daise) and "Fred & Ted: A Day at the Circus," the first in a series by Lizzie Gallo recounting the antics and adventures of two mischievous teddy bears. Click on CLASS Publishing above for details of these and our other publications. To purchase, click on CLASS List and select the book(s) of your choice. We will call or email for your payment preference.
When the virus is under control, we hope to resume Moveable Feasts - literary luncheon on Fridays (and some Tuesdays!), featuring exciting authors at area restaurants. The event is dependent on several factors beyond our control: publishers' willingness to send out their authors on book tour; authors' willingness to travel (IF and WHEN the airline industry is functioning); reopening of the restaurant industry (being mindful of possible restrictions as to diner limitations, PPE requirements, etc.); and finally, YOU - your willingness to congregate. Our partner in the Moveable Feasts, Litchfield Books, has copies of the previously scheduled books and can fill e-mail orders (
[email protected]
).
To register or receive updates for Moveable Feasts, send us your e-dress by calling 843-235-9600, stop by our gallery in the Litchfield Exchange, or click on the topic of your choice at the top of this page.
CLASS (Community Learning About Special Subjects) offers special excursions and retreats. Click on CLASS List for details about twice monthly Paint-Ins at the Litchfield Exchange with Danny McLaughlin (currently suspended). Lee Brockington's Women's Retreat at the Sea View Inn (Nov. 8-10, 2020) will reward you in so many way.
Art Works, CLASS Productions and Publishing, and The Moveable Feast are owned and managed by Linda Ketron (
[email protected]
).

Instructor:
Literary Luncheons
Dates:
Mar 17, 2020 to May 29, 2020
Time:
From 11:00 am to 1:00 pm
Materials:
Reservations by day preceding the virtual meeting
Class Cost:
$0.00
Is Class Open?
No
Description:
All Moveable Feasts through May have been cancelled due to concerns about Covid-19. Although we have not heard "officially" regarding future Moveable Feasts, there are no restaurants open and groups greater than three are prohibited until further notice. If you are missing visits with your favorite authors, SIBA (Southeastern Independent Booksellers Association) has organized "Readers Meet Writers" for free online author presentations. Both Litchfield Books (
[email protected]
) and My Sister's Books (
[email protected]
) are participating, and you can check in with them to pre-register for these events by 3 PM the day before the event, to get the link and access code. Here's the schedule so far: April 28: Feels Like Falling / Kristy Woodson Harvey; May 5: Before She Was Helen / Caroline B. Cooney; May 6: Native / Kaitlin Curtice; May 12: Hello Summer / Mary Kay Andrews; May 20: The Prettiest Star / Carter Sickels; May 21: A Taste of Sage / Yaffa S. Santos; The gallery is closed until further notice, although we will retrieve phone messages and respond as quickly as possible. Every effort will be made to reschedule any feasts cancelled to a later date. If you paid in advance for upcoming feasts, we will carry your credit forward. And any gift certificates you may have will be honored through the end of 2020. Click on Moveable Feast at the top of the home page to view the coming authors.
Click the name above to register!
The Moveable Feast Literary Luncheons
The Moveable Feast features literary luncheons with exciting authors at area restaurants on Fridays, 11 am - 1 pm, $30 each with a $5 cash rebate if the featured book is purchased.
The Next Feast...
Susan Mallery - cancelled
author of "The Friendship List" at Kimbel's, Wachesaw.

"#1 New York Times bestselling author of 150 (not an error – typically three a year!) novels about the relationships that define women's lives — family, friendship, romance. Library Journal says, "Mallery is the master of blending emotionally believable characters in realistic situations," and readers seem to agree — 40 million copies of her books have sold worldwide. Her warm, humorous stories make the world a happier place to live. Single mom Ellen Fox couldn't be more content — until she overhears her son saying he can't go to his dream college because she needs him too much. If she wants him to live his best life, she has to convince him she's living hers. So Unity Leandre, her best friend since forever, creates a list of challenges to push Ellen out of her comfort zone. Unity will complete the list, too, but not because she needs to change. What's wrong with a thirty-something widow still sleeping in her late husband's childhood bed? "The Friendship List" begins as a way to make others believe they're just fine. But somewhere between "wear three inch heels" to "have sex with a gorgeous guy," Ellen and Unity discover that life is meant to be lived with joy and abandon, in a story filled with humor, heartache and regrettable tattoos."

Click here to register