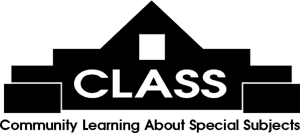 Welcome to the Pawleys Island/Litchfield SC CLASS website!
CLASS (Community Learning About Special Subjects) is in its 21st year of providing adults with unique opportunities! The CLASS/Moveable Feast office is located in Art Works in the Litchfield Exchange at 14363 Ocean Highway, Pawleys Island, two miles south of Brookgreen Gardens, just behind Applewood House of Pancakes on U.S. 17.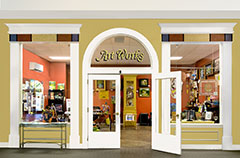 Our hours are Mondays through Saturdays, 10 AM to 2 PM. But our answer machine works when we aren't (843-235-9600), and we can always be reached through ClassAtPawleys.com.
Art Works features local artists including Larry Beasley, Terry Belanger, Kathi Bixler, Nancy Bracken, Roger Cleveland, Gwen Coley, Millie Doud, Lisa Elvington, Terry Graham, Zenobia Harper, Rachel Held, Barbara Kee, Sharon Knost, Barbara Linderman, Danny McLaughlin, Suz Mole, Paul Moyer, Barnie Slice, Sharon Sorrels, M.P. "Squeaky" Swenson, Kathy Welde and Jane Woodward. Come see their new creations!
The CLASS Publishing Division is delighted to announce its newest publications: "Carolina Rambling" by Selden Hill and William Baldwin; "Lost and Found" by Ernest Merchant; "A Very Special Family: The House of Joseph Thomas Raad, Georgetown, SC" by John Kenny; "I CAN! Adventures with Birdie," the fourth in a series of children's books initiated by Ron Daise; and "Holidogs," a happy read for all ages by Gayle Agee and Millie Doud (now in hardcover). Click on CLASS Publishing above for details of these and other publications by this small press. To purchase, click on CLASS List and select the book(s) of your choice. We will call or email for your payment preference.
Fridays (and some weekdays!) CLASS presents Moveable Feasts, literary luncheons featuring exciting authors at area restaurants. Each Moveable Feast is $30 (however, if you purchase the featured book at the Feast, CLASS will give you a $5 cash rebate!). Occasionally, the Feast includes the book as a requirement of the publisher (these are typically "heavy-hitters" that we wouldn't get otherwise). To register or receive the schedule for the Moveable Feasts, send us your e-dress by calling 843-235-9600, stopping by our gallery in the Litchfield Exchange, or clicking on the topic of your choice at the top of this page.
CLASS (Community Learning About Special Subjects) offers special excursions and retreats. Click on CLASS List for details about twice monthly Paint-Ins at the Litchfield Exchange with Danny McLaughlin. Lee Brockington's Women's Retreat at the Sea View Inn will reward you in so many ways.
CLASS Productions offers intimate Saturday afternoon concerts with remarkable performers (e.g., Clay Brown, Donald Ceasar, Donna & Mark Groom, Drink Small, Dixieland Swampers, Unisoghn, Gracie Holliday, Mac Arnold, Lime and the Coconuts) inside Kimbel Lodge on the Hobcaw Barony property. Concerts will resume in the fall.
Art Works, CLASS, CLASS Publishing and The Moveable Feast are owned and managed by Linda Ketron (linda@classatpawleys.com).

Instructor:
Local artists and authors
Dates:
Jul 18, 2019 to Jul 20, 2019
Time:
From 10:00 am to 5:00 pm
Materials:
Class Cost:
$0.00
Is Class Open?
yes
Description:
Rothrock Collection hosts a holiday fair throughout the Litchfield Exchange, with amazing collectibles and new creations for early gift planning. Local artists, artisans and authors will fill the atrium, with special sales at the perimeter shops and twice daily prize drawings (1 PM and 4 PM) for gift certificates to Moveable Feasts and Pawleys Island Festival of Music, a Cyclopedia beach bike, original artwork, autographed books, and gift baskets chock full of goodies. Refreshments provided by Applewood's, ElJay Pretzels, and Rothrock Collection. Live music each afternoon from 3-5 PM by Mission Control recording artists. Stop by and get a jump on your holiday gift list!
Click the name above to register!
The Moveable Feast Literary Luncheons
The Moveable Feast features literary luncheons with exciting authors at area restaurants on Fridays, 11 am - 1 pm, $30 each with a $5 cash rebate if the featured book is purchased.
The Next Feast...
Thomas Mallon
author of "Landfall" at Caffe Piccolo (venue change!).

"Cited as "crisp and witty," "juicy," and "entertainingly bitchy," a new novel by Thomas Mallon is always a mouth-watering prospect for lovers of American politics. This one, set during the tumultuous middle of the George W. Bush years—amid the twin catastrophes of the Iraq insurgency and Hurricane Katrina—brings Thomas Mallon's cavalcade of contemporary American politics, which began with Watergate and continued with Finale, to a vivid and emotional climax. The president at the novel's center possesses a personality whose high-speed alternations between charm and petulance, resoluteness and self-pity, continually energize and mystify the panoply of characters around him. They include his acerbic, crafty mother, former First Lady Barbara Bush; his desperately correct and eager-to-please secretary of state, Condoleezza Rice; the gnomic and manipulative Donald Rumsfeld; foreign leaders from Tony Blair to Vladimir Putin; and the caustic one-woman chorus of Ann Richards, Bush's predecessor as governor of Texas. A gallery of political and media figures, from the widowed Nancy Reagan to the philandering John Edwards to the brilliantly contrarian Christopher Hitchens, bring the novel and the era to life. The story is deepened and driven by a love affair between two West Texans, Ross Weatherall and Allison O'Connor, whose destinies have been affixed to Bush's since they were teenagers in the 1970s. The true believer and the skeptic who end up exchanging ideological places in a romantic and political drama that unfolds in locations from New Orleans to Baghdad and during the parties, press conferences, and state funerals of Washington, D.C."

Click here to register