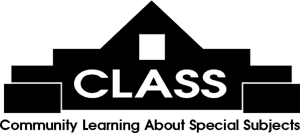 Welcome to the Pawleys Island/Litchfield SC CLASS website!
We are temporarily closed through the COVID-19 crisis. You can email us (
[email protected]
) or call (843.235.9600) and we will retrieve messages and return calls. Stay safe, all!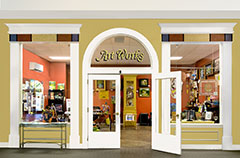 CLASS (Community Learning About Special Subjects) begins its 23rd year of providing adults with unique opportunities! The CLASS/Moveable Feast office is located in Art Works in the Litchfield Exchange at 14363 Ocean Highway, Pawleys Island, two miles south of Brookgreen Gardens, just behind Applewood House of Pancakes on U.S. 17.
Our hours are Mondays through Saturdays, 10 AM to 2 PM. But our answer machine works when we aren't (843-235-9600), and we can always be reached through ClassAtPawleys.com.
Art Works features local artists including Terry Belanger, Nancy Bracken, Patricia Tanner Candal, Roger Cleveland, Millie Doud, Lisa Elvington, Terry Graham, Zenobia Harper, Rachel Held, Martha Hollenhorst, Barbara Kee, Sharon Knost, Barbara Linderman, Danny McLaughlin, Suz Mole, Paul Moyer, Barnie Slice, Sharon Sorrels, M.P. "Squeaky" Swenson, and Kathy Welde. Come see their new creations!
CLASS Publishing Division is delighted to announce its newest publications: "Pawleys Island: An Old Man's Love Story" by Robert "Mac" McAlister, a charming memoir of one person's personal experiences about Pawleys Island spanning 70 years from the 1940s through the present. "Beach House Card Tricks" by R. Marc Davison is a beautifully bound resource for anyone who wants to amaze their friends, kids, grands, nieces & nephews with mind-boggling impromptu card tricks! PLUS "Riverside Blues, A Gullah Tale" by Tracy S. Bailey, "A Country Girl from Colleton County" by Bryan B. England, and "Getting Out - A Plan for a Successful Life after Prison" by Jesse James Marshall, as well as "Elliott Learns to Swim" (sixth in a series of children's books for Brookgreen Gardens initiated by Ron Daise) and "Fred & Ted: A Day at the Circus," the first in a series by Lizzie Gallo recounting the antics and adventures of two mischievous teddy bears. Click on CLASS Publishing above for details of these and other publications by this small press. To purchase, click on CLASS List and select the book(s) of your choice. We will call or email for your payment preference.
Fridays (and some weekdays!) CLASS presents Moveable Feasts, literary luncheons featuring exciting authors at area restaurants. Most Moveable Feasts are $30 (however, if you purchase the featured book at the Feast, CLASS will give you a $5 cash rebate!). Sometimes, the Feast includes the book as a requirement of the publisher (these are typically "heavy-hitters" that we wouldn't get otherwise). To register or receive the schedule for the Moveable Feasts, send us your e-dress by calling 843-235-9600, stopping by our gallery in the Litchfield Exchange, or clicking on the topic of your choice at the top of this page.
CLASS (Community Learning About Special Subjects) offers special excursions and retreats. Click on CLASS List for details about twice monthly Paint-Ins at the Litchfield Exchange with Danny McLaughlin. Lee Brockington's Women's Retreat at the Sea View Inn (Nov. 8-10, 2020) will reward you in so many way.
CLASS Productions presents intimate Saturday afternoon concerts with remarkable performers during the fall and winter inside Kimbel Lodge on the Hobcaw Barony property.
Art Works, CLASS Productions and Publishing, and The Moveable Feast are owned and managed by Linda Ketron (
[email protected]
).

Instructor:
Literary Luncheons
Dates:
Mar 17, 2020 to May 29, 2020
Time:
From 11:00 am to 1:00 pm
Materials:
Reservations by preceding Wednesday
Class Cost:
$30.00
Is Class Open?
Yes
Description:
All Moveable Feasts through April have been cancelled due to concerns about Covid-19. The gallery is closed until further notice, although we will retrieve phone messages and respond as quickly as possible. Every effort will be made to reschedule any feasts cancelled to a later date. Click on Moveable Feast at the top of the home page to view the coming authors.
Click the name above to register!
The Moveable Feast Literary Luncheons
The Moveable Feast features literary luncheons with exciting authors at area restaurants on Fridays, 11 am - 1 pm, $30 each with a $5 cash rebate if the featured book is purchased.
The Next Feast...
Ariel Lawhon - cancelled
author of "Code Name Hélène" at Ocean One, Litchfield.

"Historical fiction author of "I Was Anastasia" and "The Wife, the Maid, and the Mistress," delivers a stunning portrait of high society and espionage. Based on the thrilling real-life story of socialite spy Nancy Wake, "Code Name Hélène" is told in interweaving timelines organized around the four code names Nancy used during World War II. This remarkable woman was one of the most powerful leaders in the French Resistance, known for her ferocious wit, her signature red lipstick, and her ability to summon weapons straight from the Allied Forces."

Click here to register