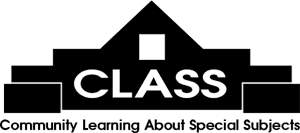 Some Art Works and CLASS-sponsored events (receptions, fundraisers) are held at the Litchfield Exchange; others (Moveable Feasts, Kimbel Concert Series, and Women's Retreats) are held other locations.
Click on class number here or below to complete the enrollment form:
- Art Works' Welcome Spring (3/25/17)

Instructor: Local artists and authors
Dates: Mar 25, 2017 to Mar 25, 2017
Time: From 2:00 PM to 5:00 PM
Materials: Raffles and donations to Bike the Neck
Class Cost: $0.00
Is Class Open? no
Description: Free to look! Local artists displaying fine, folk & functional artwork. Free to chat! Local authors with their newest titles. Free to listen! Bob Ackerman & Pam Purvis performing soulful jazz. Free to nosh! Wine & cheese, punch & cookies, coffee & chocolates. Table fees, a portion of sales, raffles & donations to benefit the North Litchfield Safety Connector (Boyle-to-Trace) of the Waccamaw Neck Bikeway.