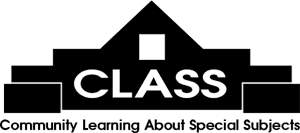 Welcome to the Pawleys Island/Litchfield SC CLASS website!
CLASS (Community Learning About Special Subjects) begins its 20th year of providing adults with unique opportunities! The CLASS/Moveable Feast office is located in Art Works in the Litchfield Exchange at 14363 Ocean Highway, Pawleys Island, two miles south of Brookgreen Gardens, just behind Applewood House of Pancakes on U.S. 17.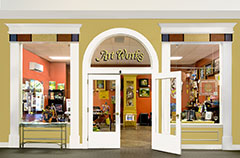 Our hours are Mondays through Saturdays, 10 a.m. to 2 p.m. But our answer machine works when we aren't (843-235-9600), and we can always be reached through ClassAtPawleys.com.
Art Works features local artists including Terry Belanger, Kathi Bixler, Nancy Bracken, Roger Cleveland, Gwen Coley, Robert Denney, Millie Doud, Zenobia Harper, Sharon Knost, Barbara Linderman, Mary Helen Lowrimore, Suz Mole, Barnie Slice, M.P. "Squeaky" Swenson, Cindy Valentine, Kathy Welde and Jane Woodward. Come see their new creations!
The CLASS Publishing Division is delighted to announce its newest publications: "The Trail through the Zoo," a coloring book for children 2-12, by Nancy Seitz, Millie Doud, Anne Malarich and Barbara Smullen; "Holidogs," a happy read for all ages by Gayle Agee and Millie Doud; "Brookgreen Gardens: Nights of a Thousand Candles," a collaborative creation with photographs by Anne Swift Malarich and poetry by Brookgreen staff and volunteers; and "Pawleys Island: Chasing the Light" with photographs by Tanya Ackerman, text by Anna Simon and foreword by Lee Brockington. Click on CLASS Publishing above for details of these and other publications by this small press. To purchase, click on CLASS List and select the book(s) of your choice. We will call or email for your payment preference.
Fridays (and some weekdays!) CLASS presents Moveable Feasts, literary luncheons featuring exciting authors at area restaurants. Beginning Jan. 2017, each Moveable Feast will be $30 (with a $5 cash rebate if you purchase the featured book). To register or receive the schedule for the Moveable Feasts, send us your e-dress by calling 843-235-9600, stopping by our gallery in the Litchfield Exchange, or clicking on the topic of your choice at the top of this page.
CLASS Productions offers intimate Saturday afternoon concerts with remarkable performers (e.g., Drink Small, Donald Ceasar, Donna & Mark Groom, Clay Brown) inside Kimbel Lodge on the Hobcaw Barony property. Click on "CLASS List" above for the listings.
Art Works, CLASS, CLASS Publishing and The Moveable Feast are owned and managed by Linda Ketron (linda@classatpawleys.com).

Instructor:
Lee Brockington and Harry Turner
Dates:
Mar 18, 2017 to Mar 18, 2017
Time:
From 3:00 pm to 5:00 pm
Materials:
BYOB
Class Cost:
$25.00
Is Class Open?
yes
Description: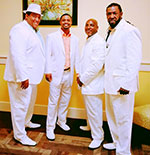 CLASS Productions presents "Clay Brown Salutes the Greats of Soul and Motown" in concert at Kimbel Lodge, Hobcaw Barony. The song list includes "My Girl," "Stand by Me," "You Send Me," "Georgia on my Mind," "Ain't Too Proud to Beg," "Moon River," and "Ooh Baby Baby." His CD ("Old School"), which pays tribute to some of the era's greatest musicians, including Sam Cooke and Jerry Butler, will be available at the concert. Back in South Carolina since the late '70s, Clay has performed with Bill Pinckney and the Original Drifters, Maurice Williams and the Zodiacs, Sonny Turner of the Platters, The Lettermen, Ruth Brown, Billy Scott and the Sugarbees. Now backed impressively by the Legends Band, the group is known for performing '60s soul music across the Carolinas.
Click the name above to register!
The Moveable Feast Literary Luncheons
The Moveable Feast features literary luncheons with exciting authors at area restaurants on Fridays, 11 am - 1 pm, $30 each with a $5 cash rebate if the featured book is purchased.
The Next Feast...
Helen Simonson
author of "The Summer Before the War" at Pine Lakes Country Club.

"The author of New York Times and international bestseller - "Major Pettigrew's Last Stand" - brings us East Sussex, 1914. It is the end of England's brief Edwardian summer, and everyone agrees that the weather has never been so beautiful. Formidable local matriarch, Agatha Kent, has just risked her reputation by publicly pushing for the appointment of a female Latin teacher but when Beatrice Nash arrives, with one trunk and several large crates of books, she is not as old or as meek as expected. As Beatrice navigates the strictures of small town life, an unimaginable war looms. The true limits of progress, and the old ways, will be tested as this small Sussex town and its inhabitants go to war. "A novel to cure your Downton Abbey withdrawal ... a delightful story about nontraditional romantic relationships, class snobbery and the everybody-knows-everybody complications of living in a small community." —The Washington Post."

Click here to register