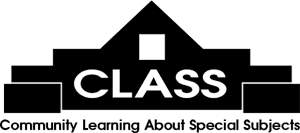 Welcome to the Pawleys Island/Litchfield SC CLASS website!
CLASS (Community Learning About Special Subjects) continues its 20th year of providing adults with unique opportunities! The CLASS/Moveable Feast office is located in Art Works in the Litchfield Exchange at 14363 Ocean Highway, Pawleys Island, two miles south of Brookgreen Gardens, just behind Applewood House of Pancakes on U.S. 17.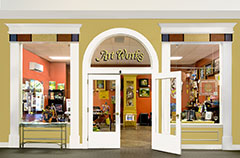 Our hours are Mondays through Saturdays, 10 a.m. to 2 p.m. But our answer machine works when we aren't (843-235-9600), and we can always be reached through ClassAtPawleys.com.
Art Works features local artists including Terry Belanger, Kathi Bixler, Nancy Bracken, Roger Cleveland, Gwen Coley, Robert Denney, Millie Doud, Lisa Elvington, Zenobia Harper, John Hart, Sharon Knost, Barbara Linderman, Suz Mole, Barnie Slice, M.P. "Squeaky" Swenson, Kathy Welde and Jane Woodward. Come see their new creations!
The CLASS Publishing Division is delighted to announce its newest publications: "Pawleys Island: Chasing the Light" with photographs by Tanya Ackerman; two volumes for Brookgreen Gardens ("Through the Seasons in Images and Words" and "Nights of a Thousand Candles"), with photographs by Anne Swift Malarich and poetry by Brookgreen staff and volunteers; "The Trail through the Zoo," a coloring book for children 2-10, and "The Friendly Fox Squirrel," the first in a series of children's books initiated by Ron Daise; and "Holidogs," a happy read for all ages by Gayle Agee and Millie Doud. Click on CLASS Publishing above for details of these and other publications by this small press. To purchase, click on CLASS List and select the book(s) of your choice. We will call or email for your payment preference.
Fridays (and some weekdays!) CLASS presents Moveable Feasts, literary luncheons featuring exciting authors at area restaurants. Each Moveable Feast is $30 (however, if you purchase the featured book at the Feast, CLASS will give you a $5 cash rebate!). To register or receive the schedule for the Moveable Feasts, send us your e-dress by calling 843-235-9600, stopping by our gallery in the Litchfield Exchange, or clicking on the topic of your choice at the top of this page.
CLASS Productions offers intimate Saturday afternoon concerts with remarkable performers (e.g., Drink Small, Donald Ceasar, Donna & Mark Groom, Clay Brown, Dixieland Swampers) inside Kimbel Lodge on the Hobcaw Barony property. Click on "CLASS List" above for the listings.
Art Works, CLASS, CLASS Publishing and The Moveable Feast are owned and managed by Linda Ketron (linda@classatpawleys.com).

Instructor:
Lee G. Brockington
Dates:
Aug 20, 2017 to Aug 20, 2017
Time:
From 8:00 am to 6:00 pm
Materials:
Lunch is self-pay
Class Cost:
$90.00
Is Class Open?
yes
Description:
Travel by van to Charleston for a day with staff and docents at, first, the SC Aquarium's Sea Turtle Hospital, followed by lunch at Eli's (or another of the fine French Quarter restaurants), and then an afternoon tour of the Mark Catesby exhibit at the Gibbes Art Museum. The Gibbes' curator has promised to leave a couple of the Belle Baruch paintings (those of the infamous theft and recovery) available for our viewing as well. On the way to Charleston Lee will regale one van, and on the way home the other, with tales and historic tidbits. Admissions, guides, transportation and gratuities are included in the $90 class fee.
Click the name above to register!
The Moveable Feast Literary Luncheons
The Moveable Feast features literary luncheons with exciting authors at area restaurants on Fridays, 11 am - 1 pm, $30 each with a $5 cash rebate if the featured book is purchased.
The Next Feast...
Bren McClain - Full!
author of "One Good Mama Bone" at Caffe Piccolo.

"McClain's writing is distinguished by a sophisticated and detailed portrayal of the day-to-day realities of rural poverty and an authentic sense of time and place that marks the best southern fiction. Her characters transcend their archetypes and her animal-as-teacher theme recalls the likes of "Water for Elephants" and "The Art of Racing in the Rain." "One Good Mama Bone" explores the strengths and limitations of parental love, the healing power of the human-animal bond, and the ethical dilemmas of raising animals for food."

Click here to register