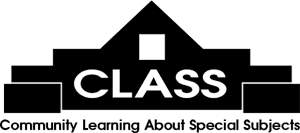 Some Art Works and CLASS-sponsored events (receptions, fundraisers) are held at the Litchfield Exchange; others (Moveable Feasts, Kimbel Concert Series, and Women's Retreats) are held other locations.
Click on class number 190 here or below to complete the enrollment form:
190 - Raise the Roof & Bless this House! (Sept. 5, 2016)

Instructor: Laura Herriott, Lee Brockington, Linda Ketron
Dates: Sep 5, 2016 to Sep 5, 2016
Time: From 1:00 PM to 4:00 PM
Materials: Plan to walk about 2 blocks on sandy lane to top of hill. Dress for the weather (hot!).
Class Cost: $0.00
Is Class Open? no
Description: Donors to the reroofing of Wilma Cottage on Sandy Island are invited to celebrate the completion of improvements. Open house, prayers of gratitude, and homecooking samples. A great opportunity to see the results of your contributions, and a chance to see where you might return for a meal or an overnight retreat. Continuous boat shuttles from Sandy Island Landing Road to the Island and back, beginning at 1 PM. 10 minute crossing on a pontoon or ski boat; lifejackets provided (or wear your own).