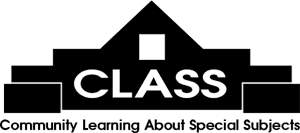 Welcome to the Pawleys Island/Litchfield SC CLASS website!
CLASS (Community Learning About Special Subjects) begins its 20th year of providing adults with unique opportunities! The CLASS/Moveable Feast office is located in Art Works in the Litchfield Exchange at 14363 Ocean Highway, Pawleys Island, two miles south of Brookgreen Gardens, just behind Applewood House of Pancakes on U.S. 17.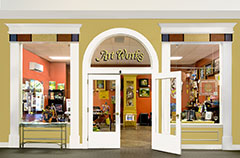 Our hours are Mondays through Saturdays, 10 a.m. to 2 p.m. But our answer machine works when we aren't (843-235-9600), and we can always be reached through ClassAtPawleys.com.
Art Works features local artists including Terry Belanger, Kathi Bixler, Nancy Bracken, Roger Cleveland, Gwen Coley, Robert Denney, Millie Doud, Zenobia Harper, Sharon Knost, Barbara Linderman, Mary Helen Lowrimore, Suz Mole, Barnie Slice, M.P. "Squeaky" Swenson, Cindy Valentine, Kathy Welde and Jane Woodward. Come see their new creations!
The CLASS Publishing Division is delighted to announce the fall roll out of its newest publications: "The Trail through the Zoo," a coloring book for children 2-12, by Nancy Seitz, Millie Doud, Anne Malarich and Barbara Smullen; "Holidogs," a happy read for all ages by Gayle Agee and Millie Doud; "Brookgreen Gardens: Nights of a Thousand Candles," a collaborative creation with photographs by Anne Swift Malarich and poetry by Brookgreen staff and volunteers; and "Pawleys Island: Chasing the Light" with photographs by Tanya Ackerman, text by Anna Simon and foreword by Lee Brockington. All four are available for this holiday gift-giving season. Click on CLASS Publishing above for details of these and other publications by this small press. To purchase, click on CLASS List and select the book(s) of your choice. We will call or email for your payment preference.
Fridays (and some weekdays!) CLASS presents Moveable Feasts, literary luncheons featuring exciting authors at area restaurants. Beginning Jan. 2017, each Moveable Feast will be $30 (with a $5 cash rebate if you purchase the featured book). Through Dec. 24, Moveable Feast Gift Certificates at the old price ($25) will be available for your friends, book club buddies, or your own sweet self! To register or receive the schedule for the Moveable Feasts, send us your e-dress by calling 843-235-9600, stopping by our gallery in the Litchfield Exchange, or clicking on the topic of your choice at the top of this page.
CLASS Productions offers intimate Saturday afternoon concerts with remarkable performers (e.g., Drink Small, Donald Ceasar, Donna & Mark Groom, Clay Brown) inside Kimbel Lodge on the Hobcaw Barony property. Click on "CLASS List" above for the listings.
Art Works, CLASS, CLASS Publishing and The Moveable Feast are owned and managed by Linda Ketron (linda@classatpawleys.com).

Instructor:
Dates:
Nov 18, 2016 to Dec 24, 2016
Time:
From 10:00 am to 2:00 pm
Materials:
Class Cost:
$25.00
Is Class Open?
yes
Description:
Beginning in January 2017, CLASS will implement the first price increase for the Moveable Feast in 20 years! But the price hike comes with a silver lining: Each feast will be $30, with a $5 cash rebate, if you purchase the featured book. Until Dec. 24, you may purchase gift certificates for the new year at the old price ($25) and use them anytime through June, 2017. Let your kids & grandkids know how easy and welcome this gift would be! Think about your book club buddies, your wonderful Friday friends, your own sweet, deserving self – stock up now!
Click the name above to register!
The Moveable Feast Literary Luncheons
The Moveable Feast features literary luncheons with exciting authors at area restaurants on Fridays, 11 am-1 pm, $25 each (some exceptions). Your participation includes 10% off the purchase price of the featured book. Each Feast is followed by a signing at Litchfield Books at 2 pm.
The Next Feast...
Robert J. Sherertz
author of "A Hero Among Millions" at Inlet Affairs.

"Lt Commander Jack Sherertz joined the Navy as a 90-day Wonder Ensign and began World War II on the USS Nevada on December 7, 1941. He was then transferred to PT boat Squadron 1 and to Midway Island in time for the Battle of Midway. He was reassigned to PT boat Squadron 34, shipped to England and participated in D-Day and the defense of the Channel Islands. Over the five years that he served in the Navy he lost six fellow Ensigns at Pearl Harbor, fifty other men on the USS Nevada, organized the funeral for eleven marine pilots on Midway, and ordered sixteen men to their death off the coast of Jersey Island. He had at least 83 good reasons why he never talked about the war, but finally, at the age of 91, he decided to tell his story … to his son. Bob Sherertz, Murrells Inlet resident and Grand Strand Regional Hospital staff physician, was a committed recorder of his father's World War II experience. His medical research experience came in handy filling in the few gaps in his father's story and confirming what was said in every way possible. But mostly, as in the oral traditions of old, he listened carefully and wrote down the story for future generations."

Click here to register