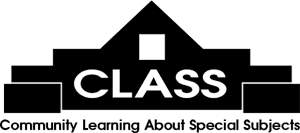 Welcome to the Pawleys Island/Litchfield SC CLASS website!
CLASS (Community Learning About Special Subjects) is in its 19th year of providing adults with unique opportunities at the Litchfield Exchange! The CLASS/Moveable Feast office is located in Art Works at 14363 Ocean Highway, Pawleys Island, two miles south of Brookgreen Gardens, just behind Applewood House of Pancakes on U.S. 17.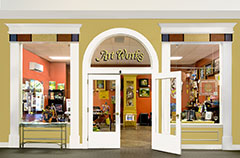 Our hours are Mondays through Saturdays, 10 a.m. to 2 p.m. But our answer machine works when we aren't (843-235-9600), and we can always be reached through ClassAtPawleys.com.
Art Works features local artists including Terry Belanger, Kathi Bixler, Nancy Bracken, Roger Cleveland, Gwen Coley, Millie Doud, Zenobia Harper, Sharon Knost, Barbara Linderman, Mary Helen Lowrimore, Suz Mole, Barnie Slice, M.P. "Squeaky" Swenson, Cindy Valentine, Kathy Welde and Jane Woodward. Come see their new creations!
The CLASS Publishing Division is delighted to announce its newest publication: "Brookgreen Gardens: Through the Seasons in Images and Words," a collaborative creation with photographs by Anne Swift Malarich and poetry by community poets and Brookgreen staff and volunteers. The book is available at Art Works and at Brookgreen Gardens' Keepsakes. A sample of this magnificent testimony to the Archer and Anna Hyatt Huntingtons' generosity can be viewed at http://www.brookgreen.org/visit.html.
CLASS Publishing is pleased to promote William Woodson's debut novel, "Waccamaw Gold," and playwright/screenwriter Larry Ketron's first novel, "Bluffing." Both are available at local bookstores, through this website and Amazon.com. "Bluffing" is also carried by the Drama Book Shop in Manhattan. Kindle versions of the books are available on Amazon.com.
Fridays (and some weekdays!) CLASS presents Moveable Feasts, literary luncheons featuring exciting authors at area restaurants. To register or receive the schedule for the Moveable Feasts, send us your e-dress by calling 843-235-9600, stopping by our gallery in the Litchfield Exchange, or clicking on the topic of your choice at the top of this page.
CLASS Productions offers intimate Saturday afternoon concerts with remarkable performers (e.g., Drink Small, Donald Ceasar, Donna & Mark Groom, Clay Brown) inside Kimbel Lodge on the Hobcaw Barony property. Click on "CLASS" above for the listings.
Art Works, CLASS, CLASS Publishing and The Moveable Feast are owned and managed by Linda Ketron (linda@classatpawleys.com).

Instructor:
Laura Herriott, Lee Brockington, Linda Ketron
Dates:
Sep 5, 2016 to Sep 5, 2016
Time:
From 1:00 pm to 4:00 pm
Materials:
Plan to walk about 2 blocks on sandy lane to top of hill. Dress for the weather (hot!).
Class Cost:
$0.00
Is Class Open?
yes
Description:
Donors to the reroofing of Wilma Cottage on Sandy Island are invited to celebrate the completion of improvements. Open house, prayers of gratitude, and homecooking samples. A great opportunity to see the results of your contributions, and a chance to see where you might return for a meal or an overnight retreat. Continuous boat shuttles from Sandy Island Landing Road to the Island and back, beginning at 1 PM. 10 minute crossing on a pontoon or ski boat; lifejackets provided (or wear your own).
Click the name above to register!
The Moveable Feast Literary Luncheons
The Moveable Feast features literary luncheons with exciting authors at area restaurants on Fridays, 11 am-1 pm, $25 each (some exceptions). Your participation includes 10% off the purchase price of the featured book. Each Feast is followed by a signing at Litchfield Books at 2 pm.
The Next Feast...
Kim Boykin
author of "Echoes of Mercy" at Pawleys Plantation.

""Forty years of atonement ought to count for something. After all, Billie Warren was just nine years old when she did what she did. She'd hoped the memory of that one horrible act would be diluted by time, by the birth of her daughter, and the death of her father. But the recollection was always there, following her around like a pack of lost dogs…" And with that opening, Boykin is off and running with her newest novel, the kind of book (says Huffington Post) "that makes you want to lock the door, turn off the phone and read every page straight through to the end." The author of "A Peach of a Pair," "Palmetto Moon" and "The Wisdom of Hair," Boykin is every soccer mom's dream come true – an acclaimed writer whose stories started in snippets while cheering from the bleachers."

Click here to register