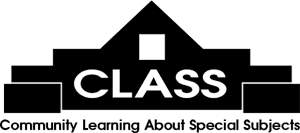 Welcome to the Pawleys Island/Litchfield SC CLASS website!
CLASS (Community Learning About Special Subjects) launches its 21st year of providing adults with unique opportunities! The CLASS/Moveable Feast office is located in Art Works in the Litchfield Exchange at 14363 Ocean Highway, Pawleys Island, two miles south of Brookgreen Gardens, just behind Applewood House of Pancakes on U.S. 17.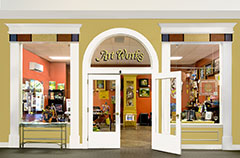 Our hours are Mondays through Saturdays, 10 a.m. to 2 p.m. But our answer machine works when we aren't (843-235-9600), and we can always be reached through ClassAtPawleys.com.
Art Works features local artists including Larry Beasley, Terry Belanger, Kathi Bixler, Nancy Bracken, Roger Cleveland, Gwen Coley, Millie Doud, Lisa Elvington, Terry Graham, Zenobia Harper, Sharon Knost, Barbara Linderman, Suz Mole, Paul Moyer, Barnie Slice, M.P. "Squeaky" Swenson, Kathy Welde and Jane Woodward. Come see their new creations!
The CLASS Publishing Division is delighted to announce its newest publications: "Carolina Rambling" by Selden Hill and William Baldwin; "Lost and Found" by Ernest Merchant; "A Very Special Family: The House of Joseph Thomas Raad, Georgetown, SC" by John Kenny; "Wild Turkey Day," the second in a series of children's books initiated by Ron Daise; and "Holidogs," a happy read for all ages by Gayle Agee and Millie Doud (now in hardcover). Click on CLASS Publishing above for details of these and other publications by this small press. To purchase, click on CLASS List and select the book(s) of your choice. We will call or email for your payment preference.
Fridays (and some weekdays!) CLASS presents Moveable Feasts, literary luncheons featuring exciting authors at area restaurants. Each Moveable Feast is $30 (however, if you purchase the featured book at the Feast, CLASS will give you a $5 cash rebate!). Occasionally, the Feast includes the book as a requirement of the publisher (these are typically "heavy-hitters" that we wouldn't get otherwise). To register or receive the schedule for the Moveable Feasts, send us your e-dress by calling 843-235-9600, stopping by our gallery in the Litchfield Exchange, or clicking on the topic of your choice at the top of this page.
CLASS (Community Learning About Special Subjects) offers special excursions and retreats. Click on CLASS List for details about bi-monthly Paint-Ins at the Litchfield Exchange with Danny McLaughlin. Lee Brockington's Women's Retreat at the Sea View Inn in November 2018 will reward you in so many ways.
CLASS Productions offers intimate Saturday afternoon concerts with remarkable performers (e.g., Clay Brown, Donald Ceasar, Donna & Mark Groom, Drink Small, Dixieland Swampers, Unisoghn, Gracie Holliday) inside Kimbel Lodge on the Hobcaw Barony property. Next up: Jazzsmith on Saturday, April 14, 3-5 PM. Click on "CLASS List" above for the listings.
Art Works, CLASS, CLASS Publishing and The Moveable Feast are owned and managed by Linda Ketron (linda@classatpawleys.com).

Instructor:
Harry Turner, Linda Ketron
Dates:
Apr 14, 2018 to Apr 14, 2018
Time:
From 3:00 pm to 5:00 pm
Materials:
you are welcome to BYO an adult beverage, if preferred
Class Cost:
$30.00
Is Class Open?
yes
Description:
As the ninth in the Kimbel Concert Series, this program will be held at Kimbel Lodge in Hobcaw Barony, a charming, intimate venue for 90. From his introduction to the drums at the tender age of 5, Gerald Smith has been performing professionally as a lead vocalist and drummer since he was 10. After touring with his college ensemble, he formed an R&B group in Arizona which performed for 15 years throughout the southwest, followed by work as an engineer/studio manager in Trinidad where he performed with numerous top artists. He joined the group Michael Boothman and Kysofusion which was the opening act for Al Jarreau, George Duke, Wynton Marsalis, Arturo Sandoval and others. Upon his return to the U.S., he joined the smooth jazz group Indigo City for a few years and then formed JAZZSMITH, performing at many jazz festivals including the Montreaux Jazz Festival in Switzerland. The group's most recent project is a compilation of his smooth jazz percussive styles and the smooth melodies from over the years, titled "Jazzsmith Live and Unedited." A sample set includes their versions of favorites like Just the Two of Us, Maputo, On Broadway, Masquerade, Footprints, Let's Stay Together, What's Goin' On, My Funny Valentine, My Girl. Space is limited (we have 90 seats, we'll only take 90 reservations). Light refreshments and iced tea provided.
Click the name above to register!
The Moveable Feast Literary Luncheons
The Moveable Feast features literary luncheons with exciting authors at area restaurants on Fridays, 11 am - 1 pm, $30 each with a $5 cash rebate if the featured book is purchased.
The Next Feast...
Ariel Lawhon
author of "I Was Anastasia" at Inlet Affairs.

"A rising star in historical suspense, Lawhon's prior works ("Flight of Dreams," a heart-wrenching novel about final flight of the Hindenburg, and "The Wife, the Maid and the Mistress," a wickedly entertaining who-done-it about the 1930-disappearance of Judge Joseph Crater) established her as a writer to watch. Now, in an enthralling new novel, she unravels the extraordinary twists and turns in Anna Anderson's 50-year battle to be recognized as Anastasia Romanov. Is she the Russian Grand Duchess, a beloved daughter and revered icon, or is she an impostor, the thief of another woman's legacy?"

Click here to register