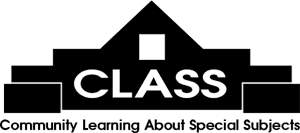 Welcome to the Pawleys Island/Litchfield SC CLASS website!
CLASS (Community Learning About Special Subjects) launches its 21st year of providing adults with unique opportunities! The CLASS/Moveable Feast office is located in Art Works in the Litchfield Exchange at 14363 Ocean Highway, Pawleys Island, two miles south of Brookgreen Gardens, just behind Applewood House of Pancakes on U.S. 17.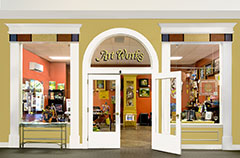 Our hours are Mondays through Saturdays, 10 a.m. to 2 p.m. But our answer machine works when we aren't (843-235-9600), and we can always be reached through ClassAtPawleys.com.
Art Works features local artists including Larry Beasley, Terry Belanger, Kathi Bixler, Nancy Bracken, Roger Cleveland, Gwen Coley, Millie Doud, Lisa Elvington, Zenobia Harper, Sharon Knost, Barbara Linderman, Suz Mole, Paul Moyer, Barnie Slice, M.P. "Squeaky" Swenson, Kathy Welde and Jane Woodward. Come see their new creations!
The CLASS Publishing Division is delighted to announce its newest publications: "Lost and Found" by Ernest Merchant; "A Very Special Family: The House of Joseph Thomas Raad, Georgetown, SC" by John Kenny; "Wild Turkey Day," the second in a series of children's books initiated by Ron Daise; and "Holidogs," a happy read for all ages by Gayle Agee and Millie Doud (now in hardcover). Click on CLASS Publishing above for details of these and other publications by this small press. To purchase, click on CLASS List and select the book(s) of your choice. We will call or email for your payment preference.
Fridays (and some weekdays!) CLASS presents Moveable Feasts, literary luncheons featuring exciting authors at area restaurants. Each Moveable Feast is $30 (however, if you purchase the featured book at the Feast, CLASS will give you a $5 cash rebate!). Occasionally, the Feast includes the book for $60. To register or receive the schedule for the Moveable Feasts, send us your e-dress by calling 843-235-9600, stopping by our gallery in the Litchfield Exchange, or clicking on the topic of your choice at the top of this page.
CLASS (Community Learning About Special Subjects) offers special excursions and retreats. Click on CLASS List for details about monthly Paint-Ins at the Litchfield Exchange with Danny McLaughlin. Lee Brockington's Women's Retreat at the Sea View Inn in March and November 2018 will reward you in so many ways.
CLASS Productions offers intimate Saturday afternoon concerts with remarkable performers (e.g., Clay Brown, Donald Ceasar, Donna & Mark Groom, Drink Small, Dixieland Swampers, Unisoghn) inside Kimbel Lodge on the Hobcaw Barony property. Next up: "At Last ... Gracie Holliday and the Holliday Sisters - Feb. 17 (Sold Out!). Click on "CLASS List" above for the listings.
Art Works, CLASS, CLASS Publishing and The Moveable Feast are owned and managed by Linda Ketron (linda@classatpawleys.com).

Instructor:
Lee Brockington
Dates:
Mar 18, 2018 to Mar 20, 2018
Time:
From 12:00 pm to 11:00 am
Materials:
Bring adult beverages, snacks and bedroom shoes.
Class Cost:
$450.00
Is Class Open?
yes
Description:
Join "local treasure" Lee Brockington at a 1937 oceanfront inn and celebrate history, ecology and sisterhood. Three days "at girls camp," eating Gullah meals prepared and served by Gullah women, and learning lessons of time and tide are highlights of the weekend. Talks on the front porch, back porch, deck and dock are complemented by walks on the beach and along the creek to enhance your understanding of Waccamaw Neck history and Pawleys Island ecology. Arrive for Sunday dinner at noon, depart after breakfast on Tuesday. $400, double occupancy; $450, single. Six meals provided. Participants should bring adult beverages, snacks and bedroom shoes! Register with CLASS at 843-235-9600.
Click the name above to register!
The Moveable Feast Literary Luncheons
The Moveable Feast features literary luncheons with exciting authors at area restaurants on Fridays, 11 am - 1 pm, $30 each with a $5 cash rebate if the featured book is purchased.
The Next Feast...
Martha Boone - FULL!
author of "The Big Free" at DeBordieu Colony Clubhouse.

"The "Big Free" is Charity Hospital and it's 1982 in New Orleans, and Charity is a big medical free-for-all. Elizabeth (based on the author's personal experience) is one of the first women in the toughest surgery department in America. With her pearls and her pink plaid socks, she doesn't fit in … at first. Half the doctors who start the surgery program never finish. Nothing in her proper southern upbringing prepares Elizabeth for the violence, debauchery and intensity of inner city trauma surgery. "The Big Free" is filled with unforgettable characters living the best and the worst New Orleans has to offer. Elizabeth learns more in six months at Charity than she learned in four years of medical school in Charleston. Will she make the cut, or will fear, exhaustion from the grueling pace, and disgust of the senseless violence prove too much?"

Click here to register