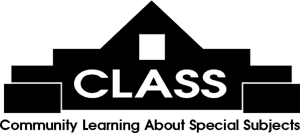 Some Art Works and CLASS-sponsored events (receptions, fundraisers) are held at the Litchfield Exchange; others (Moveable Feasts, Kimbel Concert Series, and Women's Retreats) are held other locations.
Click on class number here or below to complete the enrollment form:
- Festival of Trees at the Litchfield Exchange

Instructor: Rothrock Collections for Tidelands Hospice
Dates: Dec 5, 2019 to Dec 7, 2019
Time: From 10:00 AM to 4:00 PM
Materials:
Class Cost: $0.00
Is Class Open? no
Description: The Litchfield Exchange will be transformed into a winter wonderland with scores of tabletop trees and wreaths for bidding, teas, and Santa visits, door prizes and raffles - all to benefit Tidelands Community Hospice. Look for the detailed schedule in the Coastal Observer, and come find your holiday spirit ... and maybe some gifts as well!