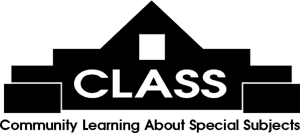 Some Art Works and CLASS-sponsored events (receptions, fundraisers) are held at the Litchfield Exchange; others (Moveable Feasts, Kimbel Concert Series, and Women's Retreats) are held other locations.
Click on class number 186 here or below to complete the enrollment form:
186 - Kimbel Concert: Dixeland Swampers (05/06/17)

Instructor: Harry Turner, Lee Brockington
Dates: May 6, 2017 to May 6, 2017
Time: From 3:00 PM to 5:00 PM
Materials: none
Class Cost: $25.00
Is Class Open? no
Description: Coordinated by our good friend and previous headliner Ceasar! The Dixieland Swampers is an amalgam of terrific musicians, many of whom play part-time for their local symphonies, as well as for big band events all over the region. Think tuba, clarinet, trumpet, saxophone, percussion and strumming banjo or guitar. Favorites like "Maple Leaf Rag," "When the Saints Go Marching In," and "Won't You Come Home, Bill Bailey," may have to take a backseat to "My Old Kentucky Home" - it IS Derby Day, afterall! Paid reservations required, space is limited. Fee includes snacks, iced and water. You may BYOB if you wish.