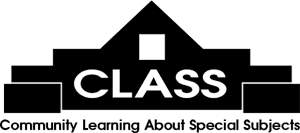 Select ongoing courses in movement, metaphysics and personal growth are held in the Litchfield Exchange, as are periodic painting workshops. Some CLASS-sponsored workshops and retreats are held other locations: MyGroup at Litchfield Counseling & Yoga; Island Time Retreat at Sea View Inn.
Click on class number 100 here or below to complete the enrollment form:
100 - The Moveable Feast

Instructor: Literary Luncheons
Dates: Jan 4, 2013 to Dec 20, 2013
Time: From 11:00 AM to 1:00 PM
Materials: Reservations by preceding Wednesday
Class Cost: $25.00
Is Class Open? Yes
Description: Each luncheon convenes in a different restaurant with an exciting author talking about his or her work, influences and inspirations. Set menu includes non-alcoholic beverages, taxes & gratuity. Each feast is $25 (a few exceptions when book included or concert), if space available. Most feasts are held on Fridays from 11 a.m. to 1 p.m. with the presentation first, followed by lunch. Occasionally, mid-week Moveable Feasts are scheduled. Reservations must be made and paid for by the preceding Wednesday. Click on Moveable Feast at the top of the home page to view the coming authors.