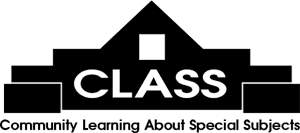 Some Art Works and CLASS-sponsored events (receptions, fundraisers) are held at the Litchfield Exchange; others (Moveable Feasts, Kimbel Concert Series, and Women's Retreats) are held other locations.
Click on class number here or below to complete the enrollment form:
- Art Works presents Fallidays (11/10/18)

Instructor: Local Artists and Authors
Dates: Nov 10, 2018 to Nov 10, 2018
Time: From 2:00 PM to 5:00 PM
Materials:
Class Cost: $0.00
Is Class Open? yes
Description: Get a jump on the holiday season with a birthday party! Join local artists and authors at a free fall reception in the Litchfield Exchange. New artwork on display by 20 local artists, book signing by a local authors, featuring books by CLASS Publishing. Plus soulful, swingin' music by The Blue Skies Band and great refreshments. This is special celebration of Art Works, CLASS and The Moveable Feast's 21st Birthday, plus recognition of our veterans with the Canine Angels "passing the bucket" and gently, gratefully relieving you of your dollar (or bigger) bills! The event is free to attend, but come prepared for irresistible expenditures. Holiday gifts to purchase and raffle items to benefit the Canine Angels! Free to look, listen, chat, nosh and pet!